Technology on the move
Mobile bank units are new concept in the banking industry, which provides full banking service of a bank branch.
The design brief set out by the client was to design a vehicle that would offer the same banking services offered at bank's branches on a mobile unit in a pleasant ergonomic environment. 
Additionally the vehicle should offer security in operation and power autonomy to operate without the need of connection to the power grid enabling it to operate at any part of the island.
This innovative project was designed and executed by Demades Design with many years of experience in the automotive design and custom projects. Developing time from concept to completion took about 8 month and construction was executed locally by a local coach builder.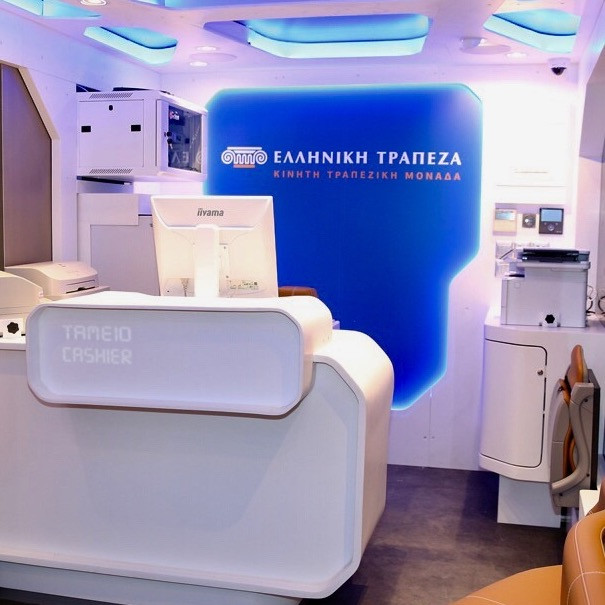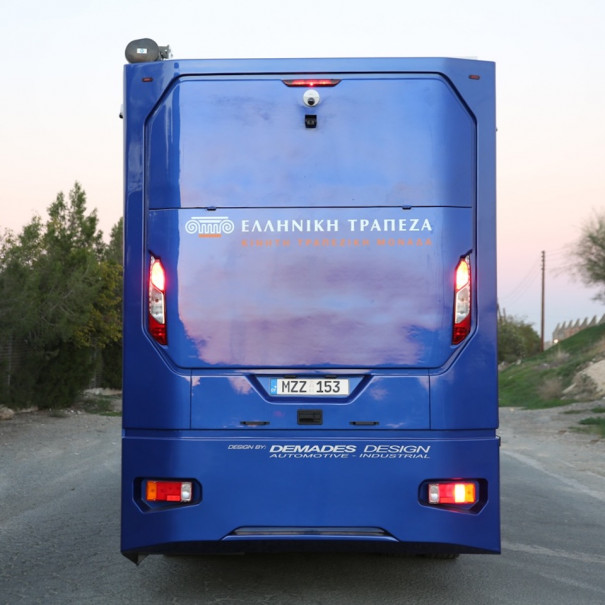 The Design
The mobile bank's unique exterior design is characterized by it's dynamic shape with large capsule shaped side glass panel and rear light cluster. In the interior ergonomic custom fitting comprising of cashier counter and seating area, integrated A/C and adaptive lighting provide bank's clients a welcoming interior and an overall unique experience. The vehicle is bulletproof,  equipped with a lift to provide easy access to people with disabilities and the elderly.  
Hellenic Bank Mobile Unit is not only an advanced technology vehicle. It puts forward a statement that innovative advanced design projects can be realized locally and can provide solutions to serve community while respecting our environment.
Features
What makes this mobile banking unit so unique is it's advanced design approach with the high level of technology incorporated and it's interior space flowing shape custom fittings. Probably the only banking unit in Europe to be equipped with so many features and advanced security system, solar power and customer support systems.
The mobile unit is equipped with an ATM machine and just like any other bank branch can service clients at any location of the island.
The vehicle carries an on-board power supply system comprising of solar panels, power generator and battery system managed by a state of art electronic power supply system that switches from solar / battery and generator and grid power depending on bank's power requirement at given time.